Israel – Winter Olympics – Skeleton – Tel Aviv Doctor – it's not an obvious match, but here's how and why our clinic became a part of Georgie Cohen's olympic adventure.
Sport is a big passion for many doctors and members of the Tel Aviv Doctor medical team, and when the aspiring Israeli olympic athlete Georgie Cohen contacted us for support, we jumped in – with a story as amazing as hers, we decided we want to be a part of it and contribute in whichever way we can!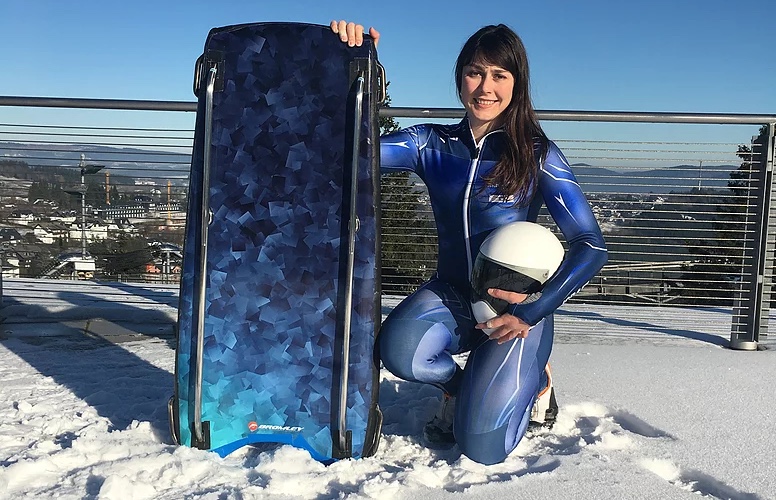 Skeleton Pilot, Israeli Georgina Shoshanna Cohen
Gerogie is the first ever Israeli female skeleton athlete to cross the finish line at a World Championship Race and it is now her dream to represent Israel in the Beijing 2022 Olympics.
Georgie made Aliyah to Israel, and is now based between Tel Aviv and London during the summer months. (Familiar territory for our English doctors here at Tel Aviv Doctor Clinic.) Of course, she travels globally to practice & compete during the Winter Season.
Medical Support & Sponsorship
Clinic founder, Dr Michael Cohen soon discovered a personal connection to Georgie beyond their passion for sports and great challenges. He shares in a similar cultural background, and can relate to her drive and her passion.
Tel Aviv Doctor will be sponsoring Georgie and offering medical assistance throughout her training.
Health & Performance
While we treat patients with light and severe medical conditions, the ethos of Tel Aviv Doctor is to focus on holistic, preventive medicine and health maintenance.
In this light, we will be supporting Georgie's journey by providing advice and recommendations to aid her overall health & wellness.
What is Skeleton Racing? – Skeleton Racing involves the rider diving headfirst on to a sled, and using their bodily strength & dexterity to steer their sled through a downhill ice track. Skeleton Racing is a highly challenging, adrenaline filled sport which requires intense training and motivation to build and maintain the strength and endurance to power the riders through the race track.
We will be following Georgie's campaign, consulting her in medical questions related to her health and sharing updates here in our Israel Health Blog and on our Social Media channels.
More information: